Welcome to R Hammond's Piano Lessons
COVID-19 Policy and Updates - Risk Assessment updated April 2022
From 1st May 2022
, providing students do not have any symptoms, test positive or are unwell (should this be the case, an online lesson will take place instead) all students of all ages (children and adults) are allowed to return to in-person lessons if they wish, following the updated COVID-19 risk assessment which can be found on our COVID-19 page above.
At in-person lessons, only the student and teacher are permitted in the teaching room due to space limitations.
Online lessons are also continuing giving students flexibility as not all students live local to the practice and many students are preferring to learn online at home. The choice is yours!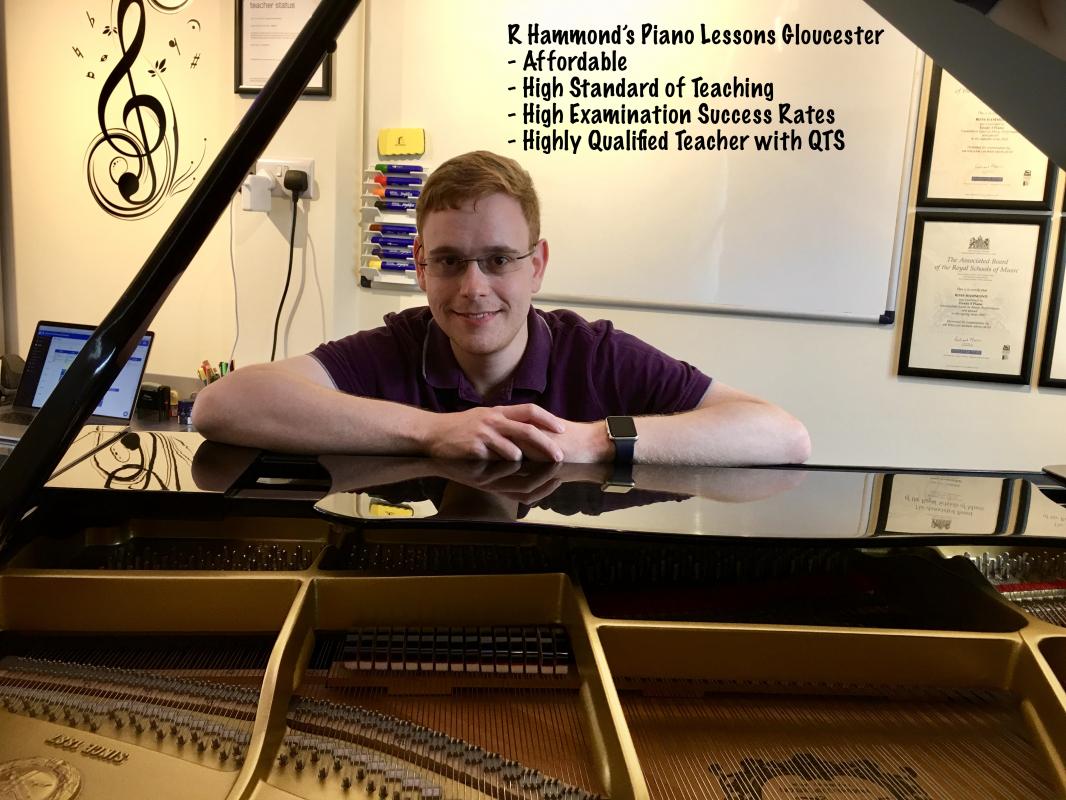 Welcome! I am Ross Hammond and I offer affordable and high quality piano lessons and music theory lessons as a professional and qualified (by the Department of Education) teacher in Gloucestershire with Qualified Teachers' Status and I am a registered Enhanced Private Teacher of the Incorporated Society of Musicians (ISM).

Learn for pleasure or / and take graded examinations. I have very high pass rates in all examinations with many students gaining a merit or distinction. All students are accepted from beginners to advanced, children and adults (age 6 +). All lessons are tailored to your individuals needs, including any SEN (Special Educational Needs).
About My Private Teaching Practice

I am a qualified Department Of Education Primary School Teacher and Private Teacher with a PGCE (Post-graduate Certificate of Education) and QTS (Qualified Teachers' Status), see my qualifications page. I teach Piano lessons and Music Theory lessons, in the Saintbridge area of Gloucester, and work closely with the Associated Board of the Royal Schools of Music (ABRSM) exam board and I am Regulated by the Incorporated Society of Musicians (ISM). In addition to this, I am a Classroom Primary School Teacher at a local Primary School. I teach students of all ages, abilities and needs. 


In 2012 I received the Enterprise award from the University of Gloucestershire (in addition to two other awards) and I have been an ISM Registered and Regulated Enhanced Private Teacher since 2019. Additionally, as a professional and qualified teacher with qualified teachers' status, unlike many private music teachers, I understand that the process of learning for all age ranges are different and tailor my approach accordingly, as well as adapting to students who have special educational needs (which I see as a learning need and not a learning disability). 
 

Furthermore, I know how important safeguarding is and as such as have an enhanced CRB check from both my school and the ISM. The ISM act as my designated Safeguarding Officer. This demonstrates my suitability to work with all children and adults, every provider of education must have one of these. 


I have been playing the Piano for 22 years and hold ABRSM performance grades from Prep Test to Grade 8. I also hold certification in Grade 5 Music Theory. I am able to relate very well to all students taking graded exams, as well as providing advice on the ever changing exam process, marking and content. I have strong connections with the ABRSM exam board, I am a Music Medals Examiner and ensure that all students whether learning for pleasure or to take exams make good or better progress whilst gaining a love for playing the piano and music in general. 

I really enjoy playing the piano and teaching both music and all other subjects. I pride myself in my teaching methods that inspire my students to achieve their full potential, including students with SEN who need special provision. My students learn in a relaxed environment and I try my utmost to make my lessons enjoyable and energetic whilst monitoring my students closely to ensure they are achieving as best as they can. I am a patient, caring and understanding teacher, as I believe learning the piano should be fun, not stressful. Being a young adult I can relate well to younger students as well as mature students and I teach all throughout the year, including all the school holidays at flexible times. 

To book lessons, please click here to register, use the registration button above or email me. To see my opening times and fees please view these pages using the menu above.

Music and Other Components that are Taught
I currently take on students aged 6 and above and can teach beginners to grade 8 in Practical and beginners to grade 5 in Theory (higher grades for theory taught upon request). Many students learn for pleasure so that they can play that one piece they have aspired to play or just learn as a hobby because they would like to gain an extra skill. Whilst other students learn and what to progress up the grade ladder in Piano performance and Music Theory. The path you take is up to you and based on your aspirations. 

For students interested in progressing through the grade ladder, my full list of taught examination elements are below. 

ABRSM Practical exams taught: 
 

Beginner (level 1 and 2) OR A Basic Piano Course for Adults levels 1 and / or 2 (depends on progress)
Prep test (optional) 

Initial Grade Practical (optional)
Grade 1 Practical 

Grade 2 Practical 

Grade 3 Practical
Grade 4 Practical 

Grade 5 Practical 

Grade 6 Practical 

Grade 7 Practical 

Grade 8 Practical 
 
 

ABRSM Musical Theory exams taught: 
 

Grade 1 Theory 

Grade 2 Theory 

Grade 3 Theory 

Grade 4 Theory
Grade 5 Theory 

Grade 6 Theory 
 
 

Please be assured, all students who are entered for exams are always fully trained and well prepared. All students enjoy high pass rates of Merit or Distinction and my lesson fees are considerably below what you would normally expect to pay for private tuition without compromise! 

Other Components: 
 

GCSE Exam Preparation (contact to discuss) 

Film music, other classical music and other non-exam material

---